All New Classes on the Schedule for September




Learn Something New at Corn Wagon Too!
We couldn't wait to let you in on some all new classes coming to the Schoolhouse this fall! New projects, new instructors, new ideas that we know you're going to love... and these three are just the beginning! Stay tuned for some more exciting announcements in the coming weeks!

---
Quilty Bib Class
Do you want to give the CUTEST present at the baby shower?
Or are YOU having a sweet little one coming soon?
These quilty bibs are made to last, and will wow any mom-to-be! Aniva Willoughby will teach you all the construction techniques you'll need to make these sweet quilty bibs.
Saturday, September 2nd, 10:00 am - Noon at the Schoolhouse. Quilty Bibs Pattern by Wild Rose Quilt Co. available here.


---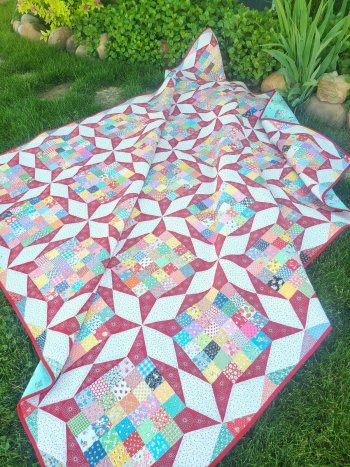 Bourbon Street Quilt Class

Take a walk down historic Bourbon Street in New Orleans as you make this striking, graphic quilt! This vintage quilt pattern, reworked and made modern, is Jelly Roll-friendly.

It's a fun pattern by Sassafras Lane that utilizes easy patchwork and simple paper-piecing techniques to ensure perfect points.

Aniva Willoughby will guide you as you quilt your way down Bourbon Street!

Friday, September 15th, 10:00 am - 2:00 pm at the Schoolhouse.
---
Twisted Stars Quilt Class
A master at creating patterns by mixing scraps in the most fantastic ways, Emily Bailey of Aunt Em's Quilts is a
new instructor to Corn Wagon Quilt Co.
She will teach all her tips and tricks for making the Twisted Stars
quilt she designed. You'll learn about partial seams and accurate piecing in this fun class! If you like classic quilts with a twist, this is the class for you!
Monday, September 18, 1:00 pm - 4:00 pm at the Schoolhouse.
---
General Class Information
Classes at the Corn Wagon Quilt Co. are held in-person at our new, state-of-the-art Schoolhouse at Corn Wagon Too, located directly behind the Quilt Shop. You'll love sewing in this beautiful space! All class supplies are 15% off to those registered and you'll receive 15% off regular price items purchased on the day of your class at Corn Wagon Quilt Co.
Please, click the image below for our complete class policies.
All class fees are due upon registration.
Class fees reserve your seat and compensate instructors for their time and expertise.
For this reason, class fees are not refundable for any reason.
Thank you for supporting your local brick-and-mortar quilt shop.
We hope to sew with you again soon!

Corn Wagon Quilt Co.
303 East 400 South
Springville, Utah 84663

801-491-3551
www.cornwagonquilts.com