Let's cut to the chase. Places to go. People to see. Projects to sew... "Come on Jen, Just show us the quilts!" No problemo! We have so many NEW quilts (8 to be exact) on display this week at the shop, all of which are exciting new patterns that are all the rage on social media. Take a look at what's currently trending and pick up a kit or two while you browse.
We were wowed when Sara Anderson brought in her finished Prairie Blossoms quilt and Tonya Colbert's custom quilting only adds to its natural beauty. Prairie Blossoms is a gorgeously, classic quilt pattern by Wendy Sheppard. It's especially striking with this deep, dusty blue background framing Sharon Holland's new collection Kindred for Art Gallery Fabrics. Create a marvelous meadow of wildflowers with this kit, unique to Corn Wagon Quilt Co. that includes yardage as shown for piecing the 63" x 73" quilt top and binding for $159.99. Find more yardage from this popular collection here while supplies last!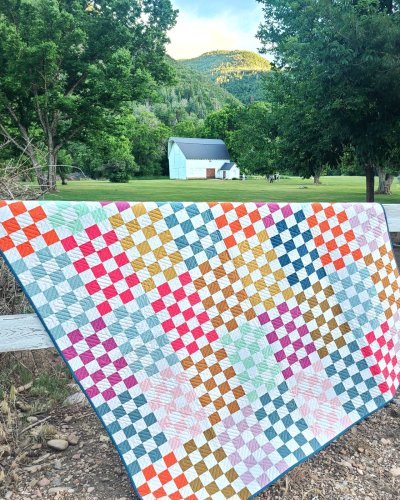 Have you met Maggie Pearl? Oh, but you must! She's a scrap-happy new pattern by Penelope Handmade that's free on her website (click here)! You'll love how quickly she makes up. Suzanne Jackman put together a beautiful array of Art Gallery Pure Solids to piece this 64" x 70" quilt top and binding. Lucky for you, she made kits! Pick yours up online or at the shop for $129.99. E2E quilting by Dorene Cole.
Peanut, peanut butter... and jelly! Sing it with me now! Except this time it's peanut butter and fresh solids. Like most of us, Cymoni Whatcott fell in love with this delicious quilt when it was first shared by Then Came June on social media. She quickly pulled fabrics for a kit to make the original cover quilt and it's sooooo good. The Peanut Butter Quilt is another free pattern (found here)! Inspired by the need for simplicity in an overwhelming world, this pattern is designed to be chain-pieced for some truly relaxing sewing. Our kit includes this modern mix of solid fabrics for piecing the 65" x 76" quilt top and binding for $109.99. The E2E quilting by Dorene Cole on this one is absolutely to-die-for!
Are You Missing a Quilt?
You may remember a couple of weeks ago, we were notified of a quilt found on the road near the freeway exit here in Springville, Utah. It's a two color, crimson and white quilt that appears to be hand quilted and machine bound. We still have not found the owner! If you or someone you know has lost a quilt, call us with further description and we'll put you in contact with it's finder. We would love to see this handmade treasure back with it's rightful owner.


Emitting all the electric energy of the big city, the New York Lattice Quilt by Knot + Thread goes together lightning fast. Julie Hancock had fun arranging modern solids by value to carry your eye up the quiltscape and how about that black and white stripe in the lattice -- high contrast perfection! The pattern is a strip-pieced, block-based design, making it sew together in a flash. E2E quilting by Dorene Cole adds to the modern feel. Snag a kit for yourself including the pattern and yardage for piecing the 68" x 81" quilt top and binding for $99.99. Looking for just the pattern? We have that too!
---
Upcoming Sales & Events
Magic Word Monday
WE'RE CHANGING THINGS UP! We're going back to our original deal for in-store customers while continuing our discounts by department online! Local customers can repeat the Magic Word at the register on Magic Word Monday and show that you follow us on social media for 20% off one regular price item of your choice! Online shoppers may enter the magic word as a coupon code online 06/26/23 to receive 20% off ALL QUILT KITS! This Monday's Magic Word is "TRENDING."
Some exclusions may apply. Cannot be applied to block of the month kits. Cannot be combined with other offers. We will not hold items or pre-cut yardage for this special offer.

Handwork Club
Every Tuesday, 10:00am - Noon
This delightful weekly club is for anyone who would like to work on a hand stitching project while learning new hand stitching skills. It's a great chance to finish our own projects and relax with a fun gathering of sewing friends. No fee to attend. Simply come and join us!

Wrong Price Wednesday!
Every Wednesday our pre-cut fat quarters are only $3.00! Regular Price $3.75.

Time Out at the Wagon (Open Sew)
Every Wednesday, 10:00am to 4:00pm
Put yourself in Time Out at the Wagon in our School House located directly behind the quilt shop! At times we all need time out from housework, phone calls, and everyday responsibilities. Bring your current sewing project to "Time Out at the Wagon" and do just that. Marsha is looking forward to being in Time Out and hopes lots of you will join her.

Thank you for supporting your local brick-and-mortar quilt shop!
We feel honored to be part of such a wonderful quilt-making community.

We hope you'll visit us again soon,
Jen and the Girls
at Corn Wagon Quilt Co.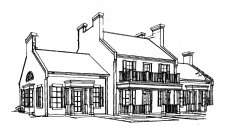 We would love to hear from you!
801-491-3551
cornwagonquilts.com