Oh, to be a kid again. Days filled with curiosity and wonder; not a care in the world. Each day, a revolving agenda of playtime, snacktime, and naptime. As a kid, quilts meant lots of things; picnics on the grass, quilt forts and best of all, a signal for snuggling up for a cozy snooze. We consider all these things when making quilts for kids but how often do we allow our "grown up" quilts to reflect the joyful child within us all. Next time you're pulling fabrics intended for any age, I challenge you to lighten up and brighten up with something whimsical! Enjoy some quilty playtime! Throw in something unexpected; an energetic twist of creativity or something nostalgic that stirs up happy memories of home. Here are a few examples of quilt kits, available now, that would be wonderful for the young and young at heart.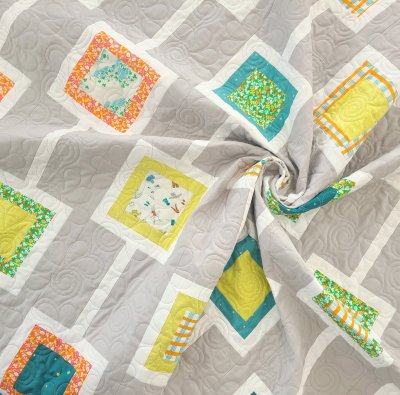 Raise your hand if you love Heather Ross! I just can't get enough. Her artwork always brings a smile to my face. If you're a fan, you know how collectable her fabrics have become. They appeal to all ages and have the timeless, illustrated feel of a classic children's book. Her prints are perfect for fussy-cut features like the windows created by the Chain Reaction quilt pattern by Cluck Cluck Sew. Cymoni Whatcott highlighted the adorable designs from Heather's Lucky Rabbit collection, creating a modern throw quilt. I mean, how can anyone pass up pajama-clad bunnies reading books in their quilt tent? Kits for this 56" x 68" quilt top as well as yardage from this highly anticipated line are available online and in-store now! E2E quilting by our own Dorene Cole.
Just a little teaser for good things to come... Angie Pope has been working on this oh, so great, gingham quilt featuring Heather Ross' newest collection, Country Mouse. The sample will be on display at the shop soon! In the meantime, we are opening a handful of kits to PRE-ORDER! Woohoo! Claim one today online and it will ship before the end of July. Yardage is available online and in-store NOW but it won't last long. Check out our full selection of Heather Ross fabrics in our children's department! Also, take note, more fabulous E2E quilting by Dorene Cole, above and below.
Naptime for little bear is especially cozy with his favorite quilt. Our Super Simple Strip Quilt was designed by Emily Herrick to be a fast and fun quilt to make that is an easy favorite. We've been making this quilt for years now and it's a perpetual best-seller. The finished size is 42" x 54," making it a perfect lovey for kids to take anywhere. I've found it's an ideal size to use as a lap quilt for those in a wheelchair or for chemo warriors! We keep a variety of kits in-stock so there's something for everyone and at just $44.99 (binding included), they make an ideal gift. They're only available in-store because of their unique nature so next time you're here, visit our lower level and check out what new fabric combos we've put together. You can also ask one of our employees for a copy of this complimentary pattern and put together your own combo! We recommend backing with minky for the extra snuggle factor. Here's just a few of the options currently available:
49th Annual Utah Quilt Show
Quilts may be brought to the Springville Museum of Art for jurying July 14 & 15, 10am - 4pm. This juried exhibition will be on display for two months and features quilts of all styles created by some of the State's finest quilters. Presented by the Springville Museum of Art and the Utah Valley Quilt Guild with support from the Corn Wagon Quilt Co. and Riley Blake Designs. Look for our coupon at the museum front desk for a special discount during the show!



The Harbor Quilt is a sweet design sized for baby that is made using the Cupcake Recipe technique by Miss Rosie's Designs. We put together a set of feed sack style charm squares and a white on white background for an heirloom feel. A border of blue Tilda polka dots complete the playful look. The Harbor pattern is found in the book, Moda All Stars: Mix It Up! sold separately. Custom Quilting by Tonya Colbert.

If you haven't tried the Cake Mix technique, you must! Lexi Lamb and Jen Tanner will teach you how versatile these papers can be at their next Cake Mix Quilt Class coming up on Friday, September 1st, 5:00 - 8:00 p.m. Visit our class list here for full details and while you're there, check out all the other cool learning opportunities at the Schoolhouse.
---
Upcoming Sales & Events

Magic Word Monday
Enter the magic word "KIDDO" as a coupon code online 07/17/23 for 20% off Minky and Cuddle Yardage! Local customers can repeat the Magic Word at the register on Magic Word Monday and show that you follow us on social media to receive 20% off one regular price item of your choice! Some exclusions may apply. Cannot be combined with other offers. We will not hold items or pre-cut yardage for this special offer.

Handwork Club
Every Tuesday, 10:00am - Noon
This delightful weekly club is for anyone who would like to work on a hand stitching project while learning new hand stitching skills. It's a great chance to finish our own projects and relax with a fun gathering of sewing friends. No fee to attend. Simply come and join us!

Wrong Price Wednesday!
Every Wednesday our pre-cut fat quarters are only $3.00! Regular Price $3.75.

Time Out at the Wagon (Open Sew)
Every Wednesday, 10:00am to 4:00pm
Put yourself in Time Out at the Wagon in our School House located directly behind the quilt shop! At times we all need time out from housework, phone calls, and everyday responsibilities. Bring your current sewing project to "Time Out at the Wagon" and do just that. Marsha is looking forward to being in Time Out and hopes lots of you will join her.

Thank you for supporting your local brick-and-mortar quilt shop!
We feel honored to be part of such a wonderful quilt-making community.

We hope you'll visit us again soon,
Jen and the Girls
at Corn Wagon Quilt Co.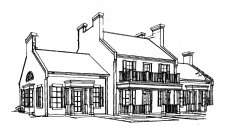 We would love to hear from you!
801-491-3551
cornwagonquilts.com