Here in the great state of Utah, the 24th of July is a holiday commemorating the arrival of Pioneers in the Salt Lake Valley. Parades, festivals, picnics and fireworks celebrate our history and heritage. For my family, it means it's time for another adventure in the be-UTAH-ful outdoors. We feel there's no better way to reflect on the wonder that is Utah than to be immersed in its awe-inspiring landscape -- and you know I'll be taking something to stich on the road with me. After all, quilting is an important part of our legacy and a weekend away wouldn't feel right without it!
Corn Wagon Quilt Co. will be CLOSED Monday, July 24th in honor of Pioneer Day.
Remember, we're OPEN 24/7 on our website! www.cornwagonquilts.com In fact, Magic Word Monday will still be happening online! Enter the magic word "UTAH" as a coupon code when you checkout online 07/24/23 for 20% off All Quilters Cotton Yardage!
Seems like a perfect time to announce that we have made a few more kits available for the Desert Dreams quilt designed, pieced and quilted by our own Ramona Sorensen for the 2023 Shop Hop. If you missed getting a kit then, now is your last chance! Taking inspiration from the high deserts of Southern Utah this traditionally pieced quilt has nine star blocks reminiscent of designs woven by the Native American cultures of the southwest, framed by a border that echoes compass points. Begin your next quilt journey with this beautiful quilt kit found only at Corn Wagon Quilt Co. Kit includes the Desert Dreams pattern and yardage for piecing the 76" x 76" quilt top and binding for $139.99.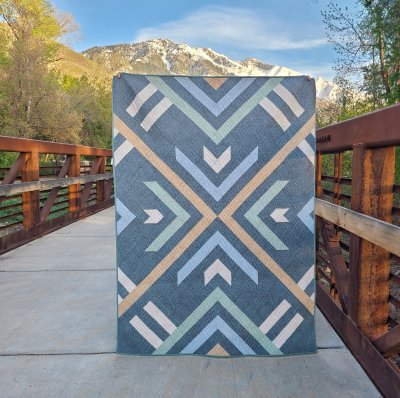 The Homecoming quilt also feels appropriate to share. When I made this quilt, I wanted it to reflect the colors I have come to love during the ski season here in my home state (Utah = Greatest Snow on Earth). Essex Linens by Robert Kaufman, bring beautiful texture and depth to this popular design by Lo & Behold Stitchery. Earthy tints of blue, green, and gold against a slate background make this quilt feel like it belongs at the lodge. Our kit includes fabrics as shown for piecing the 53" x 71" quilt top and binding, as well as the pattern for $97.99. I chose "Onion Skin" E2E quilting that resembles flames to echo the warmth of the hearth where this quilt will offer cozy comfort and Dorene Cole carried it out beautifully!
I'm convinced there is no greater state to get out and enjoy the outdoors in than Utah and this wool block-of-the-month is just the thing for those of us who find their happy place in the wild. Camp Basin is a wonderful outdoor quilt designed by Buttermilk Basin. The 60" x 60" quilt features wool applique on a flannel background with lots of room for cute buttons and stitching embellishment. Stop in and see how fabulous our finished quilt, made by Marianne Michaels and quilted by Ramona Sorensen, really is! Look at all the fun details!
Sign up now for this twelve-month block-of-the-month which will include the patterns, cotton backgrounds, borders, and binding, and hand-dyed, felted wool for applique. You will receive one block each month for twelve months. Threads are not included. This block-of-the-month program will run from September 1, 2023 to August 1, 2024.
$20 non-refundable sign-up fee
$32.99 per month for 12 months through our automated subscription service
There is not a class associated with this BOM. For wool applique instruction, we invite you to attend one of our free wool applique demos or watch our Wool Applique YouTube tutorial here.
49th Annual Utah Quilt Show
Saturday, July 22 - Saturday, Sept 23
The Opening Reception and Awards Ceremony for the Utah Quilt Show is tomorrow, July 22nd at 10:30 a.m. Anyone is welcome to attend! Please note that the museum is closed Sundays and Mondays.
It's a Utah tradition and a show you won't want to miss! Exhibited by the Springville Museum of Art, 126 East 400 South, Springville, Utah. Be sure to pick up a Corn Wagon coupon while at the show and stop in to see us. We're less than two blocks down the road!
Time for another Sew Along!
And this time it's all about your home town.
Lori Holt's newest fabric collection, Home Town pays homage to her very own home town in Utah - inspired by the memories and the families she fondly remembers. Each one of her darling florals and sparkling geometric prints from this darling fabric collection are named after those families. Lori hopes to inspire you to reminisce about your own home town, and put those sweet memories and this charming designer fabric collection together to create a quilt full of sweet nostalgia.
Don't miss Lori's Home Town Sew Along beginning Monday, September 18th on her blog beeinmybonnetco.blogspot.com where you will also be able to download the free pattern guide as the Sew Along date draws near. Pre-order your kit here today and be ready to start the Sew Along with Lori!
Our Home Town Sew Along Quilt Kit INCLUDES the required Sew Simple Shapes (23.99 retail value) as well as all fabric for the quilt top and binding for the special Sew Along price of $229.99!

As an added BONUS, we invite those who have purchased this kit through Corn Wagon to meet with Karen Averett during our Open Sew each Wednesday beginning at 10:00 a.m. during the Sew Along for guidance, tips and tricks as well as friends to sew along with!

PLEASE NOTE: This kit is a PREORDER item offered at a special Sew Along price. Discounts/coupons do not apply. We anticipate them being ready the first week of August 2023. We will ship as soon as they are ready (free shipping over $200!) or you may select pick up and we will contact you as soon as they are available.
---
Upcoming Sales & Events

Magic Word Monday
Enter the magic word "UTAH" as a coupon code online 07/24/23 for 20% off All Quilter's Cotton Yardage! The quilt shop will be closed Monday, but our website will be OPEN so hop online and do some fabric shopping! Some exclusions may apply. Cannot be combined with other offers. We will not hold items or pre-cut yardage for this special offer.
Fall S.A.B.L.E. Sale -- Vendor Registration Opens Tuesday at 10am!
Sale takes place Saturday, September 30th, 9:00am to 3:00pm
Reservations will open Tuesday, July 25th at 10:00 a.m. on our website under "classes" so hop on line Tuesday morning and reserve your vendor stall right away! S.A.B.L.E. stands for Stash Accumulated Beyond Life Expectancy. It's real. We know from experience and we want to help you out. We'll have 28 parking stalls available to rent for $25 where quilters can set up shop in our parking lot with sewing goods they are ready to part with! Please join us!

Handwork Club
Every Tuesday, 10:00am - Noon
This delightful weekly club is for anyone who would like to work on a hand stitching project while learning new hand stitching skills. It's a great chance to finish our own projects and relax with a fun gathering of sewing friends. No fee to attend. Simply come and join us!

Wrong Price Wednesday!
Every Wednesday our pre-cut fat quarters are only $3.00! Regular Price $3.75.

Time Out at the Wagon (Open Sew)
Every Wednesday, 10:00am to 4:00pm
Put yourself in Time Out at the Wagon in our School House located directly behind the quilt shop! At times we all need time out from housework, phone calls, and everyday responsibilities. Bring your current sewing project to "Time Out at the Wagon" and do just that. Marsha is looking forward to being in Time Out and hopes lots of you will join her.

Thank you for supporting your local brick-and-mortar quilt shop!
We feel honored to be part of such a wonderful quilt-making community.

We hope you'll visit us again soon,
Jen and the Girls
at Corn Wagon Quilt Co.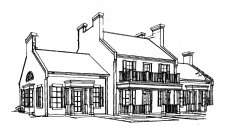 We would love to hear from you!
801-491-3551
cornwagonquilts.com