Beginning Piecing is Back for Fall! Plus Registration is OPEN for S.A.B.L.E. SALE!




Learn Something New at Corn Wagon Too!
Yes, Quilting Classes fill our Schoolhouse schedule regularly, but that's not the only thing that happens at Corn Wagon Too... clubs and special events are going on all the time! We have weekly Handwork, Rug Hooking and Sew Along Clubs. Events like our famous S.A.B.L.E. Sale and Trunk Shows pop up on our schedule from time to time. We're always looking for fun new ways to spend time with our quilting friends, doing what we love most.

Let me introduce you to three of our upcoming opportunities:
---
Beginning Piecing Class
Do YOU want to learn how to quilt?
Our Beginning Piecing Class is the perfect place to start!
Meet Suzanne Jackman and Lynette Christensen at Corn Wagon Too,
where they will teach you everything you need to know to select coordinating fabrics, measure and cut accurately, sew together blocks like a pro, and finish a quilt top. During this course you will make the beautiful

Garden Stars

Sampler

lap-size quilt by Sherri McConnell of A Quilting Life, and it's full of the techniques you'll need in almost any other quilt pattern -- sign up and learn to piece today!
This eight-week course will take place every Wednesday evening, beginning September 6 and ending October 25 at our Schoolhouse.


---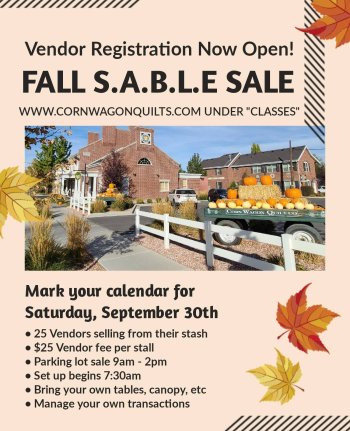 FALL S.A.B.L.E. SALE

S.A.B.L.E stands for Stash Accumulated Beyond Life Expectancy. It's real. We know from experience and we want to help you out! Saturday, September 30th we are hosting a S.A.B.L.E Sale in our Corn Wagon Too parking lot! Rent a parking stall for $25 and set up shop 9 a.m. - 2 p.m. with fabric, patterns, kits, notions - - anything quilting related that you're wiling to part with. You set your own prices and manage your own transactions for your own S.A.B.L.E Sale! You can even get a group of friends who are also affected by S.A.B.L.E. syndrome and share a space!

We'll get the word out! You bring the goods!

Vendor setup will take place between 7:30am - 9:00am the morning of the sale. Please plan to bring your own tables. Pop-up tents (with materials for securing) are highly recommended for shade. The sale will go on rain or shine so come prepared. Please contact Shannon White with any questions at shannon.white@cornwagonquilts.com
---
Lori Holt Home Town Sew Along
Lori Holt's newest fabric collection, Home Town pays homage to her very own home town in Utah - inspired by the memories and the families she fondly remembers. Each one of her darling florals and sparkling geometric prints from this darling fabric collection are named after those families. Lori hopes to inspire you to reminisce about your own home town, and put those sweet memories and this charming designer fabric collection together to create a quilt full of sweet nostalgia.
Don't miss Lori's Home Town Sew Along beginning Monday, September 18th on her blog beeinmybonnetco.blogspot.com where you will also be able to download the free pattern guide as the Sew Along date draws near!
Our Home Town Sew Along Quilt Kit INCLUDES the required Sew Simple Shapes (23.99 retail value) as well as all fabric for quilt top and binding.

As an added bonus, we invite those who have purchased this kit through Corn Wagon to meet with Karen Averett during our Open Sew each Wednesday beginning at 10:00 a.m. during the Sew Along for guidance, tips and tricks as well as friends to sew along with! No need to register. When you buy your kit, simply let us know you are planning top attend.

PLEASE NOTE: This kit is a PREORDER item offered at a special Sew Along price. Discounts do not apply. We anticipate them being ready the first week of August 2023. We will ship as soon as they are ready (FREE SHIPPING FOR ORDERS OVER $200!) or you may select pick up and we will contact you as soon as they are available.
---
General Class Information
Classes at the Corn Wagon Quilt Co. are held in-person at our new, state-of-the-art Schoolhouse at Corn Wagon Too, located directly behind the Quilt Shop. You'll love sewing in this beautiful space! All class supplies are 15% off to those registered and you'll receive 15% off regular price items purchased on the day of your class at Corn Wagon Quilt Co.
Please, click the image below for our complete class policies.
All class fees are due upon registration.
Class fees reserve your seat and compensate instructors for their time and expertise.
For this reason, class fees are not refundable for any reason.
Thank you for supporting your local brick-and-mortar quilt shop.
We hope to sew with you again soon!

Corn Wagon Quilt Co.
303 East 400 South
Springville, Utah 84663

801-491-3551
www.cornwagonquilts.com