Take your sewing skills to new heights at Corn Wagon Too!




Learn Something New at Corn Wagon Too!
As with any pursuit, sewing skills are built step by step. Foundational techniques are added upon as we challenge our abilities with new methods and creative ideas. We learn from mentors who have been through the process of "leveling up." We find motivation through our sewing circles and our own drive to finish something exciting and new. It's through this building process that we turn interest into talent and craft into artistry. We want to see you take your sewing skills to new heights here at Corn Wagon Too. Here are three fantastic chances to "level up!"
---
Choose-Your-Size Poppins Bag Class
Your next chance to get in on our most popular bag class is coming right up!
Thursday, August 31st, 10:00 a.m. - 5:00 p.m.
The Poppins Bag in the Little and Mini sizes are both so darling and fun to make! Structural stays, included in the pattern, plus Bosal In-R-Form (double-sided fusible foam) help keep its shape. Pockets inside store supplies for a sewing day with friends or a fun purse for everyday use. You can choose between the Little Poppins Bag (the best handbag size) or the Mini Poppins Bag (a great tiny tote or lunch bag). Come learn some bag-making techniques you have likely never tried before! There will be a bit of prep work to complete before class.
Instructor, Shelley Taylor, knows all the best methods and will help you every step of the way!
---
Quilty Bib Class

Do you want to give the CUTEST present at the baby shower?

Or do YOU have a sweet little one of your own coming soon?

Or maybe you have an adorably messy toddler in your life who could really use a smock?

These quilty bibs are made to last, and look super cute too! Aniva Willoughby will teach you all the construction techniques you'll need to make these sweet quilty bibs. Ideal for children ages 1-2.

Saturday, September 2nd, 10:00 am - Noon at the Schoolhouse.

Quilty Bibs Pattern by Wild Rose Quilt Co. available

here

.
---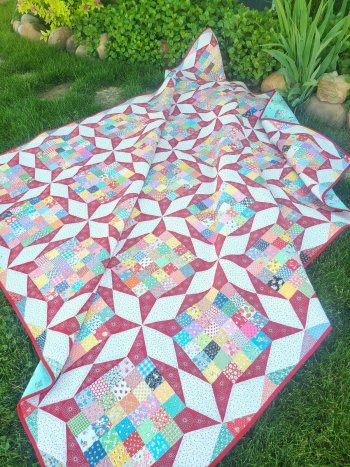 Bourbon Street Quilt Class
Take a walk down historic Bourbon Street in New Orleans as you make this striking, graphic quilt! This vintage quilt pattern, reworked and made modern, is Jelly Roll-friendly. It's a fun pattern by Sassafras Lane that utilizes easy patchwork and simple paper-piecing techniques to ensure perfect points. Aniva Willoughby will guide you as you quilt your way down Bourbon Street!
Saturday, September 16th, 1:00 pm - 5:00 pm at the Schoolhouse.
---
General Class Information
Classes at the Corn Wagon Quilt Co. are held in-person at our new, state-of-the-art Schoolhouse at Corn Wagon Too, located directly behind the Quilt Shop. You'll love sewing in this beautiful space! All class supplies are 15% off to those registered and you'll receive 15% off regular price items purchased on the day of your class at Corn Wagon Quilt Co.
Please, click the image below for our complete class policies.
All class fees are due upon registration.
Class fees reserve your seat and compensate instructors for their time and expertise.
For this reason, class fees are not refundable for any reason.
Thank you for supporting your local brick-and-mortar quilt shop.
We hope to sew with you again soon!

Corn Wagon Quilt Co.
303 East 400 South
Springville, Utah 84663

801-491-3551
www.cornwagonquilts.com