New Punch Needle Class! Plus just a couple of seats left in some of our most popular classes!




Learn Something New at Corn Wagon Too!
The more the merrier! Sewing is always more fun with plenty of freinds to laugh with (and cry with while unpicking). We have just a couple of seats left in some of our most popular classes coming right up. PLUS... we're excited to introduce a new Punch Needle Class!



Be sure to visit our online class list and calendar often to see what's new. There you'll find project photos, instructor bios, supply lists and of course the chance to register conveniently on the web. You'll also find project samples on display now at the quilt shop! From beginner-friendly projects to intermediate and advanced clubs, there's always room for YOU to learn something new at Corn Wagon Too!
---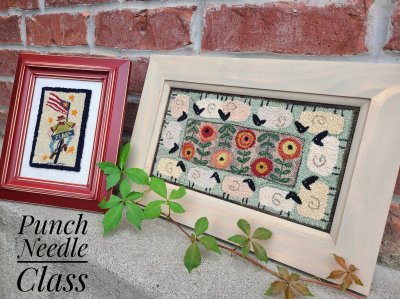 NEW Punch Needle Class
Come learn all the ins and outs of Punch Needle with Vicki Wood! She excels at crafting of all kinds, and a few years ago she fell in love with punch needle. This whimsical art form is done on weaver's cloth, often with embroidery floss, using a special punch needle to make beautiful, primitive art to decorate even the smallest areas in your home.

Vicki will provide a small kit with weaver's cloth and embroidery floss, for a small fee. You will be able to finish this small project in class, and could start another the same day!
Tuesday, September 26th, 1:00pm - 4:00pm at the Schoolhouse.
---
Beginning Piecing Class

Do YOU want to learn how to quilt? Only two seats left in our popular Beginning Piecing Class! It's the perfect place to start. Meet Suzanne Jackman and Lynette Christensen at Corn Wagon Too, where they will teach you everything you need to know to select coordinating fabrics, measure and cut accurately, sew together blocks like a pro, and finish a quilt top. During this course you will make the beautiful Garden Stars Sampler lap-size quilt by Sherri McConnell of A Quilting Life, and it's full of the techniques you'll need in almost any other quilt pattern -- sign up and learn to piece today!

Join us every Wednesday evening for 8 weeks beginning

September 6th and running through October 25th, 6:00 - 8:00 p.m.
---
Choose-Your-Size Poppins Bag
Another chance to learn how to make the most popular bag in the sewing world, is coming right up!
Thursday, August 31st, 10:00 am - 5:00 pm
The Poppins Bag in the Little and Mini sizes are both so darling and fun to make! Structural stays, included in the pattern, plus Bosal In-R-Form (double-sided fusible foam) help keep its shape. Pockets inside store supplies for a sewing day with friends or a fun purse for everyday use. You can choose between the Little Poppins Bag, the best handbag size, or the Mini Poppins Bag, a great tiny tote or lunch bag. Come learn some bag-making techniques you have likely never tried before from the expert, Shelley Taylor!
---
General Class Information
Classes at the Corn Wagon Quilt Co. are held in-person at our new, state-of-the-art Schoolhouse at Corn Wagon Too, located directly behind the Quilt Shop. You'll love sewing in this beautiful space! All class supplies are 15% off to those registered and you'll receive 15% off regular price items purchased on the day of your class at Corn Wagon Quilt Co.
Please, click the image below for our complete class policies.
All class fees are due upon registration.
Class fees reserve your seat and compensate instructors for their time and expertise.
For this reason, class fees are not refundable for any reason.
Thank you for supporting your local brick-and-mortar quilt shop.
We hope to sew with you again soon!

Corn Wagon Quilt Co.
303 East 400 South
Springville, Utah 84663

801-491-3551
www.cornwagonquilts.com