Sew Much Happening at the Schoolhouse during National Sewing Month!




Learn Something New at Corn Wagon Too!
Did you know that September was officially declared National Sewing Month by President Ronald Reagan in 1982? It's true!

"In recognition of the importance of home sewing to our Nation" September is a time to appreciate "tens of millions of Americans <who> sew at home. Their efforts demonstrate the industry, the skill and the self-reliance which are so characteristic of this Nation." Sounds like an ideal reason to join our upcoming events at the Schoolhouse this month! We have SEW much going on in September! We hope you'll get in on the fun!
---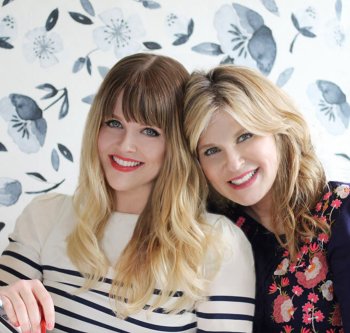 SURFACE DESIGN 101
Join the mother/daughter duo Shauna Little and Afton Harding and learn how to turn your art into fabric and MORE! As founders of Clara Jean Design, Shauna and Afton have worked to bring their designs to Dear Stella Fabrics, as well as in wallpaper, sporting goods, children's clothing, paper goods and greeting cards. Learn how it's done in this exciting, new, four-part class!

Students will learn to create an original floral watercolor and then transform it into a pattern design applicable for custom surface design, specifically textiles.





We will meet at the Schoolhouse every Thursday afternoon, 1:00 - 5:00 p.m. beginning September 14th through October 5th.





We are offering this course at the special introductory price of $99 for our first group of students! This class will be offered again in the future at a higher price. For a full breakdown of what this class will offer each week, please click below.
---
HARALSON BELT BAG CLASS

Let Shelley Taylor teach you how to make this darling new belt bag by Noodlehead! It's perfect for everyday use. Compact and easy to wear across the front of your body, this is a great bag for travel and security. The back zippered pocket is perfect for your phone or keys, with a spacious interior and a zippered pocket inside. Finished dimensions are approximately 9½" wide x 2" deep x 7" tall. Pattern includes options for making the closure using leather, cork, or faux leather. Plus, instructions for making the closure with different hardware options! You'll learn lots and come away with a super functional belt bag unique to you! Pattern available for purchase here.

Friday, September 15th, 11:00 a.m. - 4:00 p.m.

at the Schoolhouse
---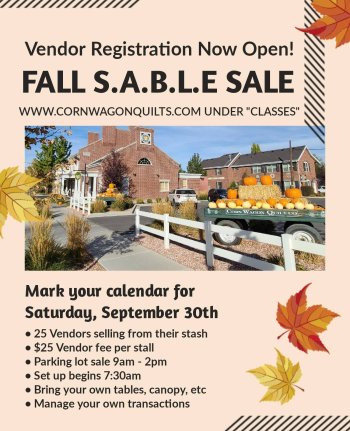 FALL S.A.B.L.E. SALE
We still have a few vendor stalls available -- it's not too late! S.A.B.L.E stands for Stash Accumulated Beyond Life Expectancy. It's real. We know from experience and we want to help you out! Saturday, September 30th we are hosting a S.A.B.L.E Sale in our Corn Wagon Too parking lot! Rent a parking stall for $25 and set up shop 9 a.m. - 2 p.m. with fabric, patterns, kits, notions - - anything quilting related that you're willing to part with. You set your own prices and manage your own transactions for your own S.A.B.L.E Sale! You can even get a group of friends who are also affected by S.A.B.L.E. syndrome and share a space!
We'll get the word out! You bring the goods!

Vendor setup will take place between 7:30am - 9:00am the morning of the sale. Please plan to bring your own tables. Pop-up tents (with materials for securing) are highly recommended for shade. The sale will go on rain or shine so come prepared. Please contact Shannon White with any questions at shannon.white@cornwagonquilts.com
---
General Class Information
Classes at the Corn Wagon Quilt Co. are held in-person at our new, state-of-the-art Schoolhouse at Corn Wagon Too, located directly behind the Quilt Shop. You'll love sewing in this beautiful space! All class supplies are 15% off to those registered and you'll receive 15% off regular price items purchased on the day of your class at Corn Wagon Quilt Co.
All class fees are due upon registration.

Class fees reserve your seat and compensate instructors for their time and expertise.
For this reason, class fees are not refundable for any reason.
Thank you for supporting your local brick-and-mortar quilt shop.
We hope to sew with you again soon!

Corn Wagon Quilt Co.
303 East 400 South
Springville, Utah 84663

801-491-3551
www.cornwagonquilts.com