You know how life sometimes throws you a curveball? Your day doesn't go quite as planned? Your energy is diverted in a different direction than expected? What do you do? You roll with it! And so today, we're arriving to your in box with an "evening edition": of the CW Newsletter -- and I must say, it's so good to see you here. Thank you for joining us. This week at the shop we've been busy moving things around, shaking things up, getting ready for new collections and project samples to arrive.It's refreshing! A new season means new styles, new inspiration and new opportunities... and we have lots to look forward to. Come see!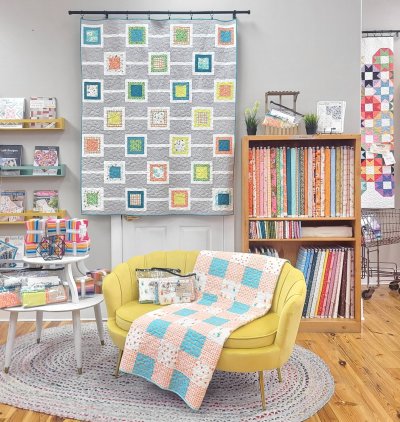 Have you visited our modern quilting loft lately? Oh, but you must! Especially if you're a Heather Ross fan! We have not one, but two fun projects featuring her iconic fabric. On the sofa you'll find the freshest gingham quilt made by Angie Pope using the new Country Mouse collection and quilted by Dorene Cole. Let's take a closer look...
Seriously sweet, Heather Ross delivers with her latest illustrated visions, always reminiscent of pages from your favorite childhood storybook. Our Country Mouse Gingham Kit includes instructions for this quick and easy, beginner-friendly, quilt as well as four fantastic Heather Ross prints for piecing this 55" x 65" quilt top and binding for $85.99 (sorry, fresh garden tomatoes not included -- though if you ask nicely, I might share).
Hanging above the sofa, you'll find another adorable throw quilt featuring Heather Ross' fabrics, this time from her Lucky Rabbit collection. Cymoni Whatcott used the Chain Reaction pattern by Cluck Cluck Sew to frame favorite prints from the line. We only have a few kits left for this 56" x 68" cutie! Grab one online (here) or in-store before they're gone. P.S. This collection is fast becoming hard to find!
And how about this gorgeous rainbow of color? In the Garden is a new, must have collection by Jennifer Moore of Monaluna for Windham Fabrics. We have big plans for this gorgeous line so stay tuned for a kits and an exciting new class!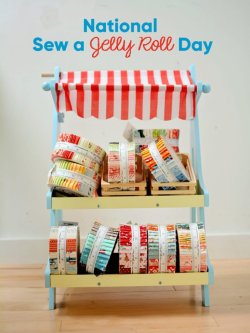 Did Someone Say "Roll with It"?
Yeah, it was me. It's true. Sometimes you just gotta "roll with it!" National Sew a Jelly Roll Day is coming right up! It's a perfect chance to "roll with it." When? Saturday, September 16. Where? At our retreat center where you can reserve a seat to sew the day away with us from 10 a.m. to 5 p.m. How? Call your best quilty friends and register online or in-store today for just $20. We'll have four free Jelly Roll quilt patterns available at the retreat and online that day (Thanks Moda!) as well as treats and fun sewing time with friends! Come roll with us!


We are currently wrapping up 2 fantastic block of the month programs here at the Corn Wagon and that means <drumroll, please> we have a limited number of complete kits available! If you felt bad you missed out on the BOM -- now's your chance!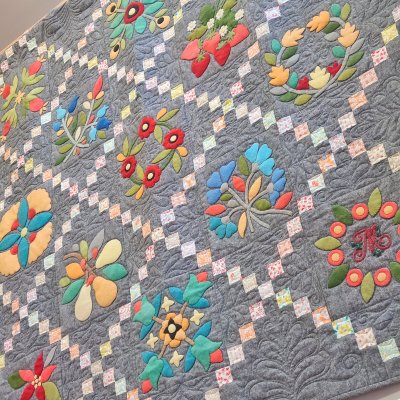 RETRO WOOL FARMHOUSE Now a certified classic, designed by Fig Tree & Co,. the Retro Wool Farmhouse quilt is made from 13 wool applique blocks surrounded by traditionally pieced Irish Chain blocks. This complete kit includes the entire BOM pattern by Joanna Figueroa as well as Essex Linen background fabric, a scraptacular blend of strips for piecing the Irish Chain and, best of all, our own unique, hand-dyed, felted wool selection for applique! Threads are sold separately but you'll have everything else you need to complete this beautiful 63" x 63" quilt top.
AMISH WITH A TWIST V Our 2nd Wednesday Club has been working dilligently to finish all the stars in this striking beauty and they're nearly finished (round of applause, please). We have a handful of complete kits available now in-store and online! Nancy Rink's Amish-themed BOM returns with a fifth installment, marking the 10th Anniversary of the series! Using this complete kit, quilters will create twelve sampler-style blocks, each in a different CENTENNIAL SOLIDS color family (some created just for this program) by Marcus Fabrics. The blocks are framed in a midnight/navy background, and it's all brought together with a rich Boysenberry border for an authentic Amish touch. Our kit includes the pattern book and yardage for piecing the 98" x 98" quilt top and binding. Nancy also designed a great 108" wide backing for the collection (3 yards of 108" recommended by pattern -- not included in kit, but available in-store). Also, in a section entitled "Beyond the Quilt," Nancy includes details for enlarging to a King Quilt. BOM class not included with the complete kit.
---
Upcoming Sales & Events

Saturday Sampler
Pick-up Begins Tomorrow, Saturday, September 9th, 10 a.m. - 5 p.m.
Time for another installment of our Choose Your Own Adventure Mystery Quilt BOM! As always, you have a one week window to bring in last month's block assignment finished to receive this month's kit free! Please remember, we cannot make any exceptions to this rule. We look forward to seeing you soon!
Magic Word Monday
This Monday's Magic Word is "LETSROLL" Enter the magic word as a coupon code online 09/11/23 to receive FREE SHIPPING SITE-WIDE! Local customers can repeat the Magic Word at the register on Magic Word Monday and show that you follow us on social media for 20% OFF ONE REGULAR PRICE ITEM OF YOUR CHOICE! Some exclusions may apply. Cannot be combined with other offers. We will not hold items or pre-cut yardage for this special offer.

Handwork Club
Every Tuesday, 10:00am - Noon
This delightful weekly club is for anyone who would like to work on a hand stitching project while learning new hand stitching skills. It's a great chance to finish our own projects and relax with a fun gathering of sewing friends. No fee to attend. Simply come and join us!

Wrong Price Wednesday!
Every Wednesday our pre-cut fat quarters are only $3.00! Regular Price $3.75.

Time Out at the Wagon (Open Sew)
Every Wednesday, 10:00am to 4:00pm
Put yourself in Time Out at the Wagon in our School House located directly behind the quilt shop! At times we all need time out from housework, phone calls, and everyday responsibilities. Bring your current sewing project to "Time Out at the Wagon" and do just that. Marsha is looking forward to being in Time Out and hopes lots of you will join her.

S.A.B.L.E. SALE
Saturday, September 30th, 9:00am to 2:00pm
Several quilter's will set up shop in our parking lot with sewing goods they are willing to part with. Each vendor will manage their own transactions so come prepared with cash or Venmo. Corn Wagon will have lots of clearance fabric and items marked down in the Schoolhouse. Come help your fellow quilters destash their S.A.B.L.E.s and see what fabric treasures you might find!

Thank you for supporting your local brick-and-mortar quilt shop!
We feel honored to be part of such a wonderful quilt-making community.

We hope you'll visit us again soon,
Jen and the Girls
at Corn Wagon Quilt Co.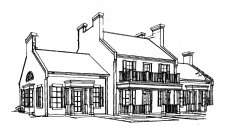 We would love to hear from you!
801-491-3551
cornwagonquilts.com