Skip Navigation
Website Accessibility
S.A.B.L.E. Sale Tomorrow and New Sew-Alongs Starting Up!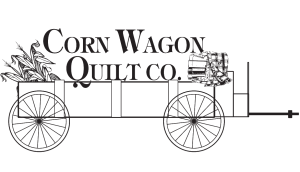 "TOMORROW! TOMORROW!..." The S.A.B.L.E. Sale's TOMORROW! Do I hear you singing along? We hope to find you doing the happy dance in our parking lot tomorrow for the fall de-stash event we've all been waiting for! Meet local quilters who are ready to part with a portion of their S.A.B.L.E. and help them by giving their beautiful fabric a loving home. It's much easier to let go of when you know it's going to a quilter who appreciates it's value. Come find some fabric treasures and mingle with other makers from 9:00 a.m. - 2:00 p.m., Saturday, September 30th.
As part of the S.A.B.L.E. Sale, Corn Wagon will have lots of clearance fabric and goods marked down in the Schoolhouse. We're clearing out our printed Minky yardage for just $10.99/yd! Our Red Dot Clearance quilter's cotton yardage is usually $7.49/yd but Saturday it will be $6.49/yd with a one yard minimum OR finish the bolt for just $5.49/yd! We'll also have last-of-their-kind kits on special and select patterns $2 - $5! Pop in the Schoolhouse to find these great bargains and more!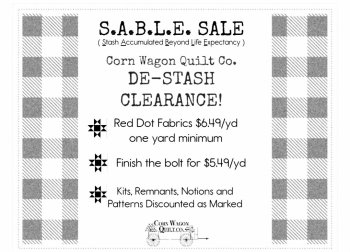 BUT WAIT... THERE'S MORE! Saturday, September 30th also just happens to be Stuff-a-Bag Sale! Bring your reusable cotton Corn Wagon bag into the quilt shop and see how much you can "stuff" to receive 20% off your regular price purchase. Some exclusions may apply. Don't have a bag? No worries! You can buy one for $5 and reuse it every 5th Saturday for the same great sale!
Please note: Stuff-a-Bag discount does NOT apply toward S.A.B.L.E. Sale vendor goods or clearance merchandise. Cannot be used toward services such as quilting and hemstitching or BOM kits.
Meet Melissa Corry at Corn Wagon Too
FRIDAY, OCT 13TH & SATURDAY, OCT 14TH
We are delighted to welcome Melissa Corry of Happy Quilting for 3 exciting classes and an evening Trunk Show featuring projects from her popular book, Fast & Fun Lap Quilts. Stop in the shop to see 3 of her gorgeous quilts now on display! Register for her trunk show or classes online here and join us! You're going to love Melissa's friendly personality, professional instruction and methods for fast and fun quilting!

Anyone else jumping in on the Star Adventure Sew Along with Then Came June? It's not too late to join! Sign up through thencamejune.com where you'll find all the details and weekly SAL updates. This week she guides you through fabric selection and we're here to simplify that process with a kit! Order yours today and have your yardage ready to begin cutting with next week's SAL steps! We also have the pattern in stock for those who want to create their own fabulous fabric pull.
Our kit (shown above) is inspired by Then Came June's original Star Adventure quilt (shown below) featuring a bright mix of bold solids, sashed with a classic black and white woven gingham. Pick up a kit for this 69" x 83" cutie that includes the pattern and gingham binding for $139.99.
Our shop sample is currently being quilted and we can hardly wait to show you how cute this quilt really is! In the meantime, you can get started with the SAL!
Images courtesy Then Came June
Another NEW Sew Along recently started!
Lori Holt's Home Town Sew Along began Monday, September 18th on her blog, beeinmybonnetco.blogspot.com where you can also download the free pattern. It's never too late to begin, especially now that you can follow Lori's YouTube tutorials all along the way. This nostalgic 75" x 84" quilt features Lori's newest fabric collection, Home Town, which pays homage to her very own home town in Utah - inspired by the memories and the families she fondly remembers.
We have just 4 kits left! Our Home Town Sew Along Quilt Kit INCLUDES the required Sew Simple Shapes (23.99 retail value) as well as the required fabric for the quilt top and binding for $229.99. Order online today!

As an added BONUS, we invite those who have purchased this kit through Corn Wagon to meet with Karen Averett during our Open Sew each Wednesday beginning at 10:00 a.m. during the Sew Along for guidance, tips and tricks as well as friends to sew along with!

PLEASE NOTE: This item is being offered at a special Sew Along price. Discounts do not apply. Kits are in-stock now. You may select local pickup or you may take advantage of FREE SHIPPING FOR ORDERS OVER $200!
---
Upcoming Sales & Events
Magic Word Monday
This Monday's Magic Word is "SEWALONG" Enter the magic word as a coupon code online 10/02/23 to receive FREE SHIPPING SITE WIDE! Local customers can repeat the Magic Word at the register on Magic Word Monday and show that you follow us on social media for 20% off one regular price item of your choice! Some exclusions may apply. Cannot be combined with other offers. Magic word may not be used toward BOM kits or services such as quilting or hemstitching. We will not hold items or pre-cut yardage for this special offer.

Handwork Club
Every Tuesday, 10:00am - Noon
This delightful weekly club is for anyone who would like to work on a hand stitching project while learning new hand stitching skills. It's a great chance to finish our own projects and relax with a fun gathering of sewing friends. No fee to attend. Simply come and join us!

Wrong Price Wednesday!
Every Wednesday our pre-cut fat quarters are only $3.00! Regular Price $3.75.

Time Out at the Wagon (Open Sew)
PLEASE NOTE: During the month of October, Open Sew will end at 2:00 p.m.
Put yourself in Time Out at the Wagon in our School House located directly behind the quilt shop! At times we all need time out from housework, phone calls, and everyday responsibilities. Bring your current sewing project to "Time Out at the Wagon" and do just that. Marsha is looking forward to being in Time Out and hopes lots of you will join her.

Thank you for supporting your local brick-and-mortar quilt shop!
We feel honored to be part of such a wonderful quilt-making community.

We hope you'll visit us again soon,
Jen and the Girls
at Corn Wagon Quilt Co.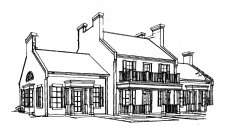 We would love to hear from you!
801-491-3551
cornwagonquilts.com