Skip Navigation
Website Accessibility
Fall is Calling! -- Autumn Classes Coming Right Up!




Learn Something New at Corn Wagon Too!
Heed the call of Fall -- it's beckoning you to sew something new! Answer by joining one of our autumn events coming right up at Corn Wagon Too. As the temperatures drop, it's a sure sign to head inside for some quality quilting time. We still have just a few seats available in Melissa Corry's classes and trunk show happening the weekend of October 13th & 14th. Come see her beautiful quilts in person at the shop! Visit our online class schedule and events calendar to view

project photos, instructor bios, supply lists and of course the chance to register conveniently on the web.


Here are three more opportunities to sew something awesome this autumn:
---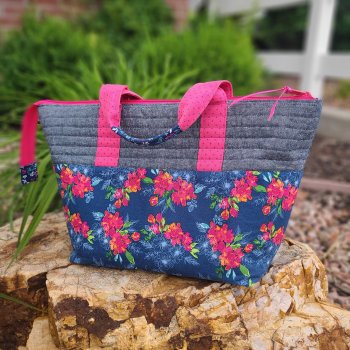 Mega Dream Bag Class
The Mega Dream Bag by Bodobo Designs is the perfect bag for all your sewing tools and notions. It also makes a great travel bag for toiletries and all your traveling stuff! There are no exposed seams, and the special features include:
Lots of interior pockets you can customize to your needs

Handles drape out of the way when in use

Zipper opens all the way so bag can open fully

Top can be folded down so contents are easily accessible

Lots and lots of room for all your stuff
Join Shelley Taylor at the Schoolhouse this Saturday, October 7th from 11:00 a.m. - 5:00 p.m. for a mega day of sewing!
---
Tall Tales Block - Foundation Paper Piecing Class

The Tall Tales block is small but so, so cute! These blocks are foundation paper pieced to make them super accurate and easy to put together. The Tall Tales Block pattern by Kate Basti is INCLUDED in the class registration fee (just $20)! Angie Pope's tips and tricks will make this foundation paper piecing project a breeze -- before you know it, you'll have more books than you can read!

Choose from two different class dates:

Thursday, October 26th, 1:00 - 3:00 p.m. OR Thursday, November 16th 10:00 a.m. - Noon

In this class, Angie will demonstrate how to make a block as you sew your own, so you will have all the hands-on instruction you need. The blocks are easier the more you do them, so you should bring enough fabrics for a few blocks!

You'll love collecting just the right focus fabrics and text prints to build your own library; beit Christmas, Halloween, Disney, Westerns, Fairy Tales, or even the classics, your quilt will be one for the books!
---
Upcycled Denim Jacket Class
It's no secret, quilt blocks are having a moment in the world of fashion and what better way to jump in than with your own unique design. Jen Tanner will show you how easy it is to upcycle a denim jacket by adding a quilt block. Whether you pull an orphan block from your stash, put together a block especially for this project, or use a convenience panel (like the one shown in our photo), you'll walk out of class with your own signature statement piece. It's perfect timing to learn how fast and fun this is for gift giving too!

In this class, we will learn how to prepare a quilt block or panel for placement on your jacket by tracing, cutting and adhering to batting. If your block or panel is large enough to fit the back yoke of your jacket as shown, great! If not, no problem! Smaller blocks look cool too. We will take time to do some basic, straight-line, machine quilting to give your block panel genuine texture. Finally we will finish the edges and attach the block to your jacket. You should have time to complete your upcycled jacket in class.
Thursday, November 2nd, 6:00 p.m. - 9:00 p.m.
---
General Class Information
Classes at the Corn Wagon Quilt Co. are held in-person at our new, state-of-the-art Schoolhouse at Corn Wagon Too, located directly behind the Quilt Shop. You'll love sewing in this beautiful space! All class supplies are 15% off to those registered and you'll receive 15% off regular price items purchased on the day of your class at Corn Wagon Quilt Co.
Please, click the image below for our complete class policies.
All class fees are due upon registration.
Class fees reserve your seat and compensate instructors for their time and expertise.
For this reason, class fees are not refundable for any reason.
Thank you for supporting your local brick-and-mortar quilt shop.
We hope to sew with you again soon!

Corn Wagon Quilt Co.
303 East 400 South
Springville, Utah 84663

801-491-3551
www.cornwagonquilts.com