Skip Navigation
Website Accessibility
Saturday Sampler 2023 Big Reveal & 2024 Sign-Ups Begin TOMORROW!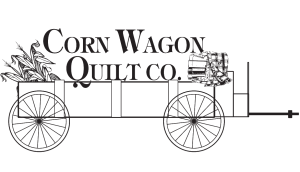 IT'S TIME FOR THE BIG REVEAL! Ten month's of exciting quilting adventure is coming to a close and it's time to show you not one but two finished quilts! Some of you chose our sophisticated solid version, some chose playful prints -- everyone is set to finish their own unique version of the Choose Your Own Adventure mystery quilt! Suzanne Jackman of Splendid Speck has been a joy to work with in producing the 2022 and 2023 programs. Many thanks to her for sharing her incredible quilt energy with us! If you missed out on this round, she will be offering a complete pattern on her website soon. Visit spendidspeck.com to see all of her excellent designs.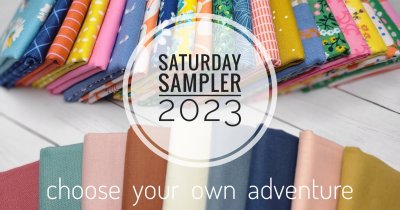 Suzanne's finished quilts will be on display at the shop beginning tomorrow, October 14 when finishing kits (included in your registration fee) will also be available for pick up. We have some fun surprise options in store for you so you can continue to make this quilt your own adventure right to the finish! We'll also have some fabulous backing options available at a discounted price using your coupon through 11/04/23 for those registered. Stay tuned on social media and on our YouTube Channel if you're watching the big reveal from afar. We can hardly wait to show you!
The close of one Saturday Sampler means...
...the opening of another! Yes, we're ready to do it all again! Registration for our 2024 Saturday Sampler opens tomorrow. We are delighted to announce that Natalie Smith of ella+charming has designed an original mystery quilt exclusively for our 10-month program. Our theme for 2024 is "Not Your Grandmother's Flower Garden. "We can't show you what the finished quilt will look like, but we can share the color palette and one 15" block for a hint of the style you'll be working with. Featuring a variety of block designs -- including some you've likely never pieced before! -- and a unique setting, this sampler block-of-the-month will be so much fun! If you're confident with basic piecing skills, you can do this and you'll enjoy gaining some new quilting knowledge as we go. Video tutorials will be available on our YouTube channel @cornwagonquilts so be sure to subscribe to follow along with the program. Pricing, rules and registration will go live on our website under "classes" first thing tomorrow morning! Take advantage of $5 off the registration cost when you sign up before November 30th. We also have options for shipping your monthly kits by registering through our convenient subscription system. We'd love you to come and play in the garden with us this year!
Have you met Natalie? You've likely been greeted by her cheerful smile at the shop and you've certainly seen her beautiful creations on display! Our friend Natalie Smith is an absolute ray of sunshine here at Corn Wagon Quilt Co. While quilts made an impression early in her life, made by her mother and grandmother, Natalie had no desire at all to make her own. Her first love? Books. As a child, Natalie moved from a highly populated, inner city location in Omaha, Nebraska to what she refers to as the sticks, in a very rural part of Wyoming. So rural, in fact, that she attended a one-room school house across the state border. Her friends were her books. She immersed herself in fairy tales and grew to love romance. To this day she LOVES a good love story and earning a degree in French and Russian sounds romantic indeed. But around the time her fourth child was a year old, Natalie realized she needed a new hobby just for her. Time spent as a mom meant little down time for reading and when she did pick up her book, well, she was soon asleep. She had a sewing machine that was used mostly for mending -- not fun -- so she decided maybe it was time to make the most of it. She rounded up some friends and started a quilt block exchange. It was just the social and creative charge she needed. She says she was bit by the quilting bug and it gets worse and worse as the years go by. She has now been quilting for 11 years and guesses (with a wink and a smile) that she may be approaching that expert level of putting in 10,000 hours. Her love for the art of quilting shows as her bright and creative personality shines through each stitch she takes. Her next steps in the quilting world have come by way of writing patterns and we are delighted to have her designs featured in our Saturday Sampler for 2024.
It's not too late to join us TONIGHT!
FRIDAY, OCTOBER 13TH, 6:00 - 7:00 P.M.
Looking for something quilty to do on a Friday night? Join us at Corn Wagon Too (located directly behind the quilt shop) for a Trunk Show! Melissa Corry of Happy Quilting will be sharing her story and showing quilts from her excellent book, Fast & Fun Lap Quilts. Refreshments will be served and she will have some of her patterns there to purchase. The book is not required for the trunk show but we have a feeling you're going to want one when you see how fun her quilts are!
It's Breast Cancer Awareness Month! Let's Stitch Pink! Pink ribbons and messages of hope and strength signal an opportunity to do our part to help find a cure, and support those fighting the battle against breast cancer. We have all been affected by breast cancer, whether we've fought the fight firsthand or stood by a loved one as they bravely battle. We hope you'll join us in a special project that will directly benefit those receiving breast cancer care.
We've set a goal to make and donate 100 heart-shaped pillows for local hospitals to give to breast cancer patients and we need your help! Through the end of October, we're accepting pillow donations at the shop. The heart shape is ideal for placement under the arm for comfort and support post-procedure. Click the image below to download a free pillow pattern from our website. We have some stuffing donated for the cause you may come in and pick up to fill your pillows. We'll give you a coupon for 20% off one regular price item of your choice when you bring in your pillow donation! Lets see how many pillows we can make and donate! Don't forget to schedule your mammogram first!
---
Upcoming Sales & Events

Magic Word Monday
This Monday's Magic Word is "STITCHPINK" Enter the magic word as a coupon code online 10/16/23 to receive FREE SHIPPING SITE-WIDE! Local customers can repeat the Magic Word at the register on Magic Word Monday and show that you follow us on social media to receive 20% OFF ONE REGULAR PRICE ITEM OF YOUR CHOICE! Some exclusions may apply. Cannot be combined with other offers. We will not hold items or pre-cut yardage for this special offer.

Handwork Club
Every Tuesday, 10:00am - Noon
This delightful weekly club is for anyone who would like to work on a hand stitching project while learning new hand stitching skills. It's a great chance to finish our own projects and relax with a fun gathering of sewing friends. No fee to attend. Simply come and join us!

Wrong Price Wednesday!
Every Wednesday our pre-cut fat quarters are only $3.00! Regular Price $3.75.

Time Out at the Wagon (Open Sew)
Every Wednesday, 10:00am
PLEASE NOTE: Open Sew will end at 2:00pm through the end of October.
Put yourself in Time Out at the Wagon in our School House located directly behind the quilt shop! At times we all need time out from housework, phone calls, and everyday responsibilities. Bring your current sewing project to "Time Out at the Wagon" and do just that. Marsha is looking forward to being in Time Out and hopes lots of you will join her.

P.J. Party! Corn Wagon's Birthday Sale
Saturday, November 4th, 9:00am to 5:00pm
It's tradition at the Wagon to open early on our birthday and shop for fabric in our jammies! We're celebrating 24 years of happy quilting and want to thank you for your support by offering some of our best savings of the year! Stay tuned for more details and mark your calendars!

Thank you for supporting your local brick-and-mortar quilt shop!
We feel honored to be part of such a wonderful quilt-making community.

We hope you'll visit us again soon,
Jen and the Girls
at Corn Wagon Quilt Co.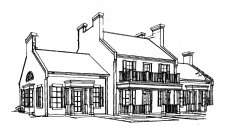 We would love to hear from you!
801-491-3551
cornwagonquilts.com